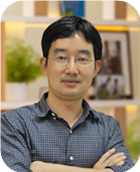 Prof. Xiaodan Fan
The Chinese University of Hong Kong, Hong Kong
Dr. Xiaodan Fan is a Professor of Department of Statistics, The Chinese University of Hong Kong, Hong Kong SAR, China. He received his Ph.D. degree in Statistics from Harvard University. Before that, he got his B.E. degree in Automation and M.S. degree in Pattern Recognition & Intelligent Systems from Tsinghua University. Dr. Fan is interested in solving Bioinformatics problems through probabilistic modeling and statistical computing. His recent research topics include genomic sequence analysis, genetic association study, microarray data analysis, statistical protein structure and function studies, DNA methylation analysis, gene network reconstruction, Bayesian methods, MCMC algorithms, model-based classification and clustering.
Speech Title: "Elucidate Protein Structural Space from Molecular Dynamics Data"
Abstract: Molecular Dynamics simulation produced a large amount of data for probing protein structures. We introduced two kinds of statistical methods to analyze such dataset in order to elucidate the energy landscape of the structural space of the corresponding protein. One method is based on a probabilistic Markov model for the transition among metastable states of the structural space. The other method tries to combine geometric information with dynamic information through a partition tree. We show that our methods outperform other methods on benchmark systems.